In addition to Cimarron as the county seat, the Gray County Sheriff's Office dispatches all emergency services throughout the entire county, including the rural communities of Copeland, Ensign, Ingalls and Montezuma.  The county is served by local volunteer firefighters and EMS personnel.  The Sheriff's Office employs five dispatchers available 24-7.
When a 911 or a concerned citizen call comes in, the on-duty dispatcher listens to the caller and takes note of their name, call back number and the reason for the call.  At that time, the dispatcher makes the critical decision of emergency services needed and relays the call information to appropriate responding units via the Motorola dispatch console system.  Medical calls require EMS to respond, in addition to law enforcement to assist and fire/rescue for calls involving entrapment, such as vehicle collisions.  Fire/rescue calls require the fire department and, based on the possibility of injury or monitoring of fire personnel health status, EMS may also be called out to respond to the scene.  The Sheriff's Office will also respond to fire rescue calls.  With mostly volunteers comprising the Gray County emergency services and the time needed for those volunteers to respond to an emergency, there can be no delay or data compromises at the dispatch station.  It is imperative all parts of the system work flawlessly, from the moment the call comes in until all units and personnel return safely to their base of operations.
Gray County has a monthly average of 25 EMS responses, 20 Fire/Rescue calls and 736 law enforcement calls.  If the dispatch system fails, all Gray County residents will be without emergency services and those calls for help will be unanswered.  Our dispatchers truly are the Thin Gold Line.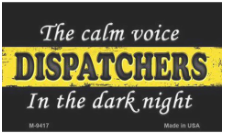 911 Emergency Response Number
911 is the telephone number for EMERGENCIES for law enforcement, fire, rescue or emergency medical services
When do you dial 911?
When someone is hurt
When you see fire or smoke
When someone's life or property are in danger
When a crime is being committed
When an ambulance is needed
The Dispatcher Will Ask:
Location of your emergency
Number you are calling from
Type of emergency you are reporting
Other necessary information
Your name
Landline vs. Cell Phone
If calling from a landline, and you are calling within our service area, your 911 call is routed to the Gray County Sheriff's Office.  Our dispatch center has an enhanced 911 system, which means the caller's name (subscriber on the telephone bill), phone number, address, and other important information is displayed.
Remember when calling from a cellular phone, exact location information, address and your name is NOT displayed for the 911 dispatcher. It is important to provide an accurate location or address where the emergency is occurring.  If you cannot speak due to injury or danger, you can also text 911 emergency services.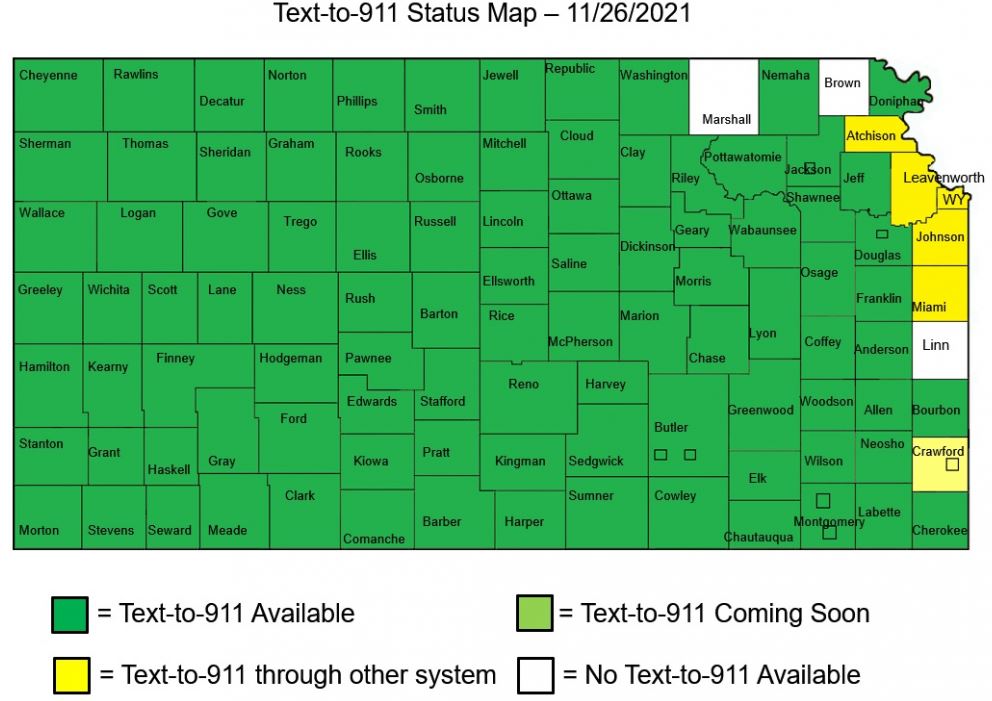 DO NOT HANG UP!
The Dispatcher may need to ask you additional questions regarding the incident. It is important that you remain on the line with the Dispatcher and answer the questions as best you can until you are told it is okay to hang up. The more information you can give, the better the RESPONDERS will be able to assist you when they arrive on the scene.
Be patient and do your best to remain calm and answer the dispatcher's questions. They are trained to ask specific questions in order to determine what type of assistance you need.
Remember:
911 is an EMERGENCY number. Please do not call this line to ask questions or as a prank or joke.
If you dial 911 in error, do not hang up. Stay on the line and explain what happened.
Make sure your house number is visible from the street